I recently found a newspaper clipping indicating my grandmother had donated to Oak Park a ceremonial Camp Fire Leader gown worn by my great-grandmother in the 1920s.  After contacting the Oak Park River Forest Museum, I was excited to learn they still have the gown in storage and there was a possibility of someday seeing and touching this family treasure.
At that time in 2017, the museum was preparing to move into their newly renovated space created inside Oak Park's oldest municipal building at the southeast corner of Lake and Lombard.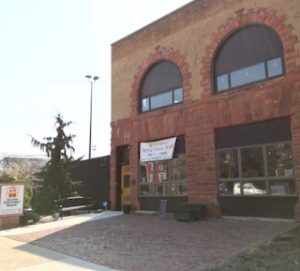 Originally built in 1898 as a firehouse by Cicero Township, the Historical Society invested private funds to transform this vacant building into a LEED accredited eco-friendly facility.
The front facade still resembles a firehouse from the street with beautiful decorative arching brickwork around the upper windows.
Inside, a knowledgeable and extremely enthusiastic curator/board member filled our heads with every detail of the building renovation,  exhibits, events, and resources.
The original two fire house pole chutes were discovered in renovation and can be safely viewed from above and below. There are plans in 2018 to install a real brass fire pole, which children will enjoy.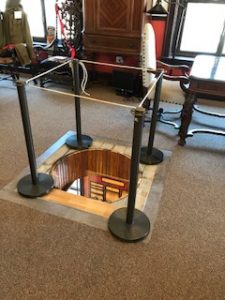 Upstairs, an area is dedicated to children's interests with old games and dollhouses and toys…
and a space dedicated to special exhibits.  WWI was on display during our visit which my husband and I both enjoyed immensely.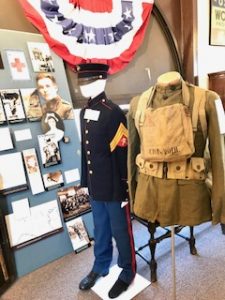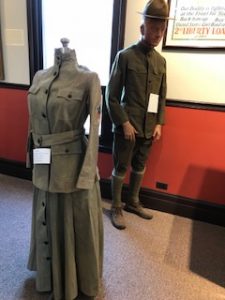 The Hometown Legends display wall offers brief biographies of many Oak Park River Forest citizens who have contributed to society:  architects, artists, and writers, entrepreneurs, scientists, and social activists.  We all know about Frank Lloyd Wright and Ernest Hemingway, but we were surprised at the number of amazing people that lived in Oak Park.  Who knew the inventor of Twinkies was from Oak Park, or the author of Tarzan?
There is so much more to see at this lovely museum.  As well, the Historical Society of Oak Park & River Forest plans many museum exhibits, events, tours, house and cemetery walks. Be sure to check their website calendar here.

C'est tout!