My fun-loving better half and I decided to drive from Chicago to St Louis, Missouri over the Memorial Day weekend to catch up with dear friends that live farther south. St. Louis is the halfway meet up point for us both and we looked forward to a couple days of tourist activities and relaxation.
Being dedicated Marriott Rewards members, we had reservations at the Renaissance St. Louis Grand Hotel, just blocks from the Gateway Arch and Busch Stadium. We found at check-in that The Grand is a wedding ceremony and reception destination with 18 weddings planned for Memorial Day weekend, but not to worry. Many formally dressed people mingled in the lobby among hundreds of gifts bags and flowers arrangements, but the weddings in no way affected the service of the staff or the elevator response time at this 23 floor facility. This is a gorgeous property architecturally, with an elegant curved marble staircase down to the Capri restaurant where we enjoyed complimentary continental buffet breakfasts. There is an in-house Starbucks, a gift shop, and the chic Grand bar. There are two Renaissances in St. Louis, so make sure you reserve the one downtown at 800 Washington Avenue for a luxury experience.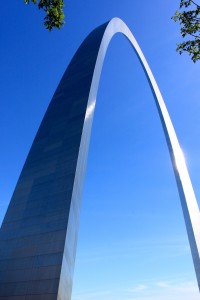 After dropping our luggage, we soon met up with our friends to head over to the Gateway Arch. Planning ahead, we had purchased timed entry tickets online the previous day for $10 each, allowing us to skip the line and show up at the time of our trip to the top. The experience is very well run and involves slowly walking through dioramas detailing the construction completed in 1965. Two trams run to the top viewing room every 5 minutes, where at 630 feet, on a clear day you can look out over 30 miles.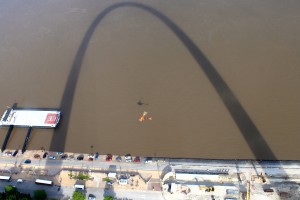 The structure was built as a monument to Thomas Jefferson and all the pioneers for who St. Louis was the Gateway to the West, as Thomas Jefferson bought the Louisiana Territory in the Louisiana Purchase and made Westward Expansion possible.
Once down to earth again in the visitor center, we stopped in the Museum of Westward Expansion, which is free to the public.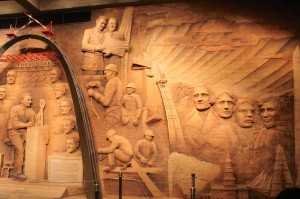 The museum has many interesting exhibits and helpful docents. We could have spent more time here but they were closing at 6pm as it was the last day of winter schedule, so we moved outside to take a few more photos.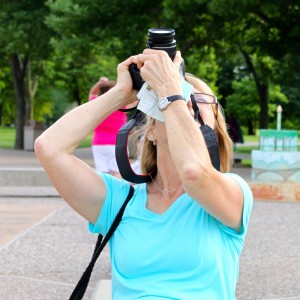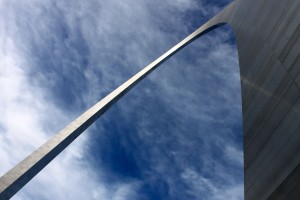 In the mood for seafood, we meandered over to Broadway Oyster Bar at 736 S. Broadway, about a mile from the Arch. Outdoor seating had an hour wait, but we were quickly shown to a table inside the eclectically decorated and air conditioned bar. After sharing a delicious dinner of oysters, crab legs, wine, and tasty bites of my husband's sampler platter of spicy Gumbo Ya Ya, Jambalaya, red beans & rice & crawfish Étouffée, we slowly walked back towards Busch Stadium. Stopping at the Budweiser Brew House for drinks, we took selfies and checked out the on stage entertainment, multiple bars, and huge television screens. The Brew House just opened in March 2014, spans 3 levels, 26,000 square feet, has an outdoor beer garden and a rooftop deck with views of Busch Stadium.  It is definitely a party atmosphere with bachelor and bachelorette limos dropping and picking up partiers everywhere. As I mentioned earlier, St. Louis is a wedding destination.
After calling it a night, we returned to our respective hotels for some R&R and planned to meet up in the morning after breakfast.
We woke Saturday to a bright and beautiful day and Starbucks skim lattes just an elevator ride away. Caffeine heaven so close!
The first stop after picking up our friends, was the Soulard Farmers Market located at 730 Carroll Street, where we scored an on street parking spot right across from the main door. The market is open Wednesday thru Saturday, year round and features locally grown and shipped in food, and the usual farmers market goods like organic soap, plants, and flowers. This market has been in existence since 1779 and is definitely worth a visit. I regret we did not bring a cooler and ice, as there was plenty of fresh produce, farm raised meat, and award winning artisanal goat cheese from Baetje Farms. We bought fruit, took many photos, and enjoyed the market sights and smells, as well as the sounds of down home entertainment.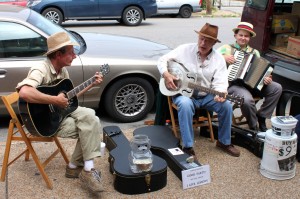 From Soulard Market, it was just a short 20 minute drive to Grant's Farm, home of the world famous Budweiser Clydesdales and a beautiful family entertainment park.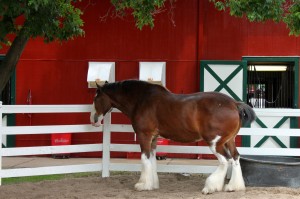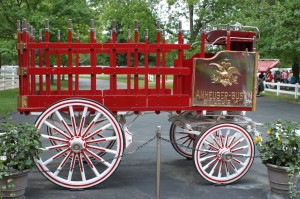 Being a gorgeous summer day, many families and couples had the same plans. There was a bit of a line getting in to the parking lot, but the entire park, tram ride through the exotic wildlife park, and entertainment are free after paying $12 for parking.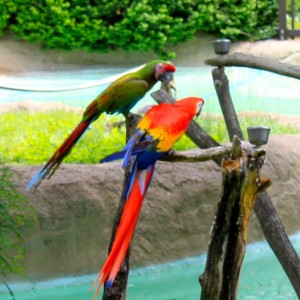 Interesting to note, once you enjoy the narrated tram ride through the park, see all of the exotic animals and grounds, adults can enjoy two free draft beers of their choice in the Bauernhof Hospitality area. A greater percentage of visitors were enjoying the beer and food than petting the goats.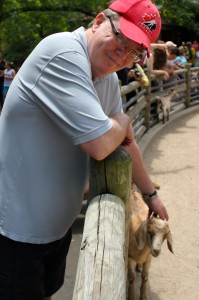 Ever the frugal travelers, we also indulged in grilled brats, grilled chicken sandwiches, fries, and free beer, and made it a lunch.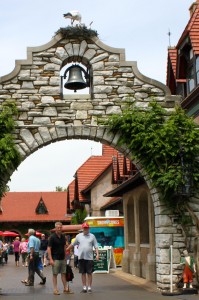 On the way back to the car, we walked to the Ulysses S. Grant National Historic Site – White Haven Farm just across the parking lot. There is an intriguing exhibit entitled An Intricate Tapestry: The Lives of Ulysses and Julia Grant, that details their public and private lives within the context of their time and how they shaped and were shaped by events of the nineteenth century. There were many personal letters on display that gave insight to their loving relationship. Sigh… ever the romantic, I am inspired next to read Julia Dent Grant's personal memoirs.
Later that afternoon we met up at Robust at 635 Washington, just blocks from our hotels, to watch the Chicago Blackhawks play the LA Kings in the third game of the semi-finals. The hostess was not happy to provide a television for a Chicago game, but after convincing her the bartender had promised…we were seated in a back corner table with two TVs at our disposal, which was quite excellent. Kris, our server, was extremely attentive. The wine and appetizers were to die for. We enjoyed a selection of small plates, particularly the Figgy Piggy Apple Flatbread with bacon, Granny Smith apples, fig jam, Gorgonzola and Mozzarella cheese – piggy being the operative word. Unfortunately the Blackhawks lost in game 3 to the Kings, but we had a fantastic time catching up with our dearest friends.
St. Louis remains on our to do list of drivable weekend destinations, with many attractions we have yet to enjoy:  Forest Park world's fair site, botanical gardens, a brewery tour, a Blackhawks and Blues game, or a Cubs and Cardinals game. Washington Avenue west of Broadway abounds with many interesting coffee shops, restaurants and wine bars waiting to be explored:  Three Sixty, Copla Restaurant & Wine Garden, Blondie's Coffee and Wine Bar…to name just a few.
Just 4-1/2 hours from Chicago, St. Louis offers an enjoyable getaway and a another taste of The Good Life…
If you liked this post, please share it with your friends!