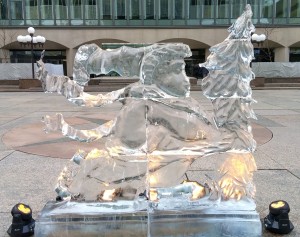 The weeks leading up to Christmas are a fantastic time to explore downtown Montreal. Having recently spent three months living near Old Montreal, I was excited to travel back this week to visit the Christmas markets, or Marché de Noël as they are known in Quebec.
Today while walking over to Rue Ste-Catherine for a little retail therapy, I came across a pop up Marché de Noël in the square above Place Ville Marie, complete with Christmas trees, ice sculpture, and scattered comfortable Adirondack chairs covered in cozy (faux) fur throws.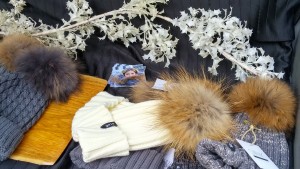 Place Ville Marie is an underground shopping mall connected to the underground city, located across the street from the Fairmont Queen Elizabeth hotel. The Fairmont is the site of the Beaver Club, and many famous celebrity guests have stayed there.  Probably the most celebrated of all, John Lennon, held his 'bed-in' here in 1969, where the song Give Peace a Chance was written and recorded. As well, the Fairmont has a unique gift shop worth exploring and the BEST high tea, but that's another story.
Back to the Marché…one of my favorite pâtisserie/boulangeries – bar à beurre, has a booth with samples of their yummy cookies and candies, and mason jars of the same for sale as gifts, and their signature shopping bags.  bar à beurre literally translates to butter bar…hmmm, no wonder their cupcakes and cookies are so wonderful.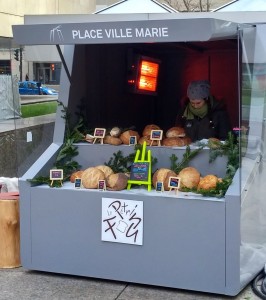 There is a artisanal bread booth, and a cheese and sausages booth, perfect for gift baskets…walk faster you little weight watcher!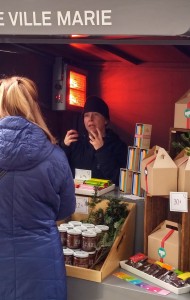 But alas, I was caught up at the chocolate booth, Les Chocolats de Chloé.  I met lovely Chloé herself, luring in customers with her wonderful cocoa treats.  I guess a few bars for stocking stuffers would be okay…if I just can forget they are packed in the suitcase.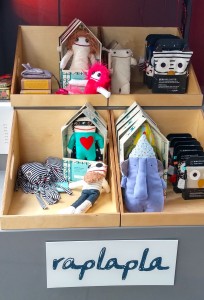 Raplapla sells handmade dolls and animals to cuddle…so soft, and they have a doll hospital to repair your treasures.
Boucle & Papier  papeterie boutique had many fun gifts…. artisan stationary and labels and soft little handmade zipper bags…oh my. So many cute things.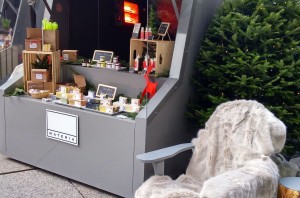 I love that the Christmas markets boast artisanal wares and unique gifts from boutiques, and am looking forward to treasure hunting tomorrow.
Joyeux Noël!  C'est tout! 
If you liked this post, please share it with your friends!