ceme
Bright and early on Monday morning we took a train down to Briare to meet Pam and Jerry. By this time we were relaxed and had already found our way back into vacation mode where the only tasks we had to worry about was finding lattes and croissants, then as the day wore on, more latte, then cheese, bread, and wine.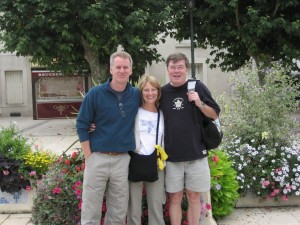 The train ride to Briare was about two hours and when we arrived mid-morning, we were surprised to find ourselves in a deserted train station, much like Petticoat Junction. John called the two taxis companies with no response so we started off towards town pulling our matching rolling duffels – John with his iPhone as a compass – and me with a dying borrowed GPS. Our sense of direction – or luck – was very good and we soon ran into Pam and Jerry out for a stroll. Their luggage had just arrived from being airline lost for 3 days, so we considered ourselves quite fortunate. Briare altho a seemingly big town, was pretty deserted, but we found a postwoman on a bicycle who directed to a coffee shop. So we enjoyed some pastries and caught up with each other before walking back to Pam and Jerry's hotel for our taxi ride to the boat dock.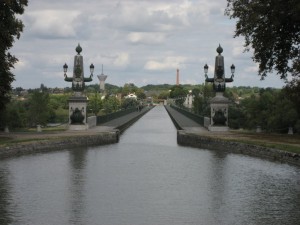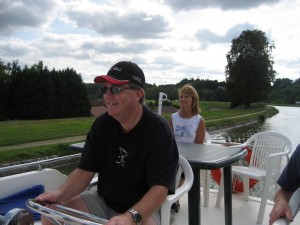 John captaining his first mission and happy to have successfully piloted the boat through the narrow Gustave Eiffel bridge.
Following are some photos taken on our second week of vacation in Normandy…comments coming later as this is a work in progress: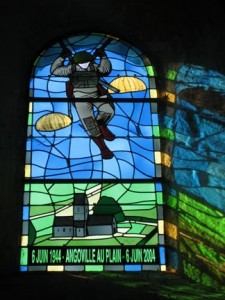 More stained glass in the town that the paratrooper hung off the church steeple all night.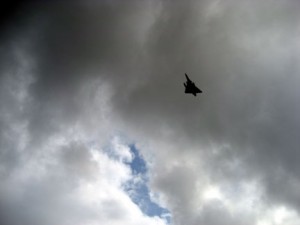 Our fighter pilot friend again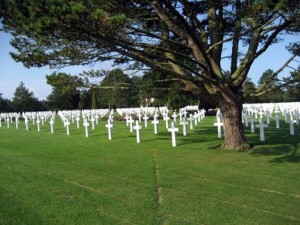 More photos to come as time allows – we have 700…
If you liked this post, please share it with your friends!