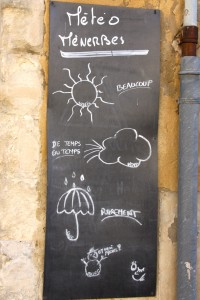 Provencal weather today was delightful, sunny and blue skies, but cool and a little windy. A day trip to Peter Mayle's Ménerbes, seemed just the ticket. There is a grand wine co op at the top of the village that we had visited before with friends and beautiful views out into the vineyards, but I particularly remembered approaching the town via Rue de la Fontaine which is lined with gorgeous shady plane trees.  The first charming building across from the parking lot is
La Vie Est Belle. We stopped to view the wares and to speak with the owner. John found a cave in the rear of this historic shop that was up to his standards of a true man cave. Lots of eclectic things to acquire…and an inviting patio.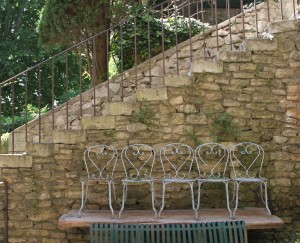 We made our way to the top of the village, stopping to take photos of whatever caught our fancy and checked out the store at
Maison De La Truffe et du Vin du Luberon.
It was very quiet for a Saturday, and today we seemed to be attracted to doors…symbolic? Hope, opportunity, opening, passage from one state or world to another, entrance to new life…retirement and new beginnings….