Sault is an old fortified village situated high atop a ridge overlooking a wide valley, with many lavendar fields spread out like purple patches on a summer quilt.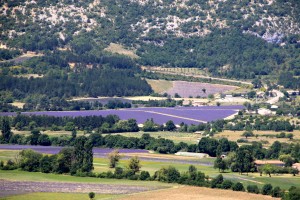 This amazing countryside is northeast of Villes sur Auzon where we had experienced a wine-cycling tour last week. It is also very close to the Gorges de la Nesque were we picnicked another day. Each time we drive back to this area, the lavendar is more in bloom and intense in hue.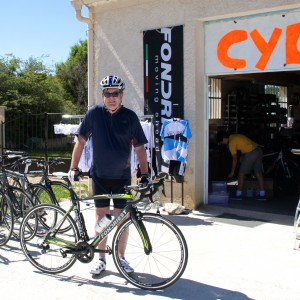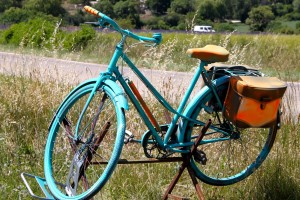 We knew we wanted to come back at least one more time this Provençal visit so Le Grimpeur could climb all those glorious Ventoux hills on a bike, and me for the lavendar and a little shopping. We planned a Wednesday visit when the Sault market could entertain me while John cycled. In the 18th and 19th centuries Sault was the center of an important glass industry. There are no glass works today, but the weekly market continues as it has since since 1515…and that's good enough for me.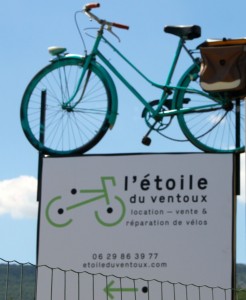 We found a brand new cycle shop just a km or two out of Sault, so we called ahead to rent a road bike.  L'Etoile Du Ventoux (The Star of Ventoux) had just opened for business and John rented their first road bike. They offered a brand new Fondriest 19-speed as well as new clip shoes right out of the box. John cycled up Col de la Ligne (altitude 756 meters) twice and was pleased to ride 60 kilometers.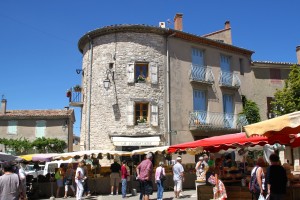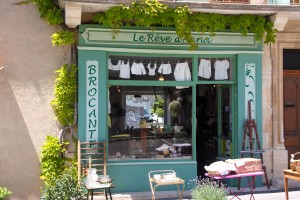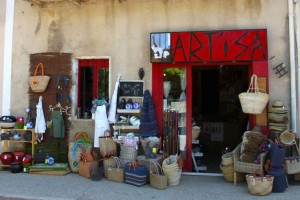 While John was cycling, I explored the village armed with camera and shopping sac. There are so many wonderful markets every day in Provence, but with limited luggage space, if I purchase something, I prefer fabricated in France or something fantastic that cannot be found at home. The markets are filled with fresh, colorful and delicious produce, soaps, oils, wine, bread, fromage, flowers, clothes, linens, bags and nougat to name a few. I like to check out the artisinal shops as well that sometimes are overlooked with the market stalls blocking them…and sometimes I am just delighted with some photos.
The proprietress at Art'Isa sits at the counter hand-painting her porcelain ware.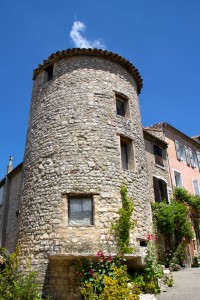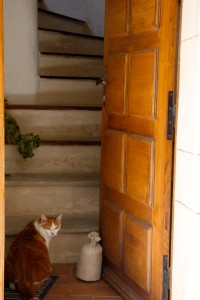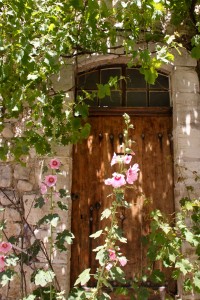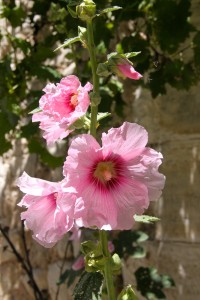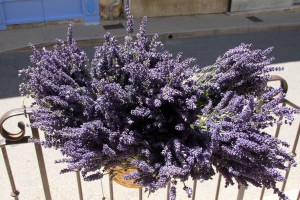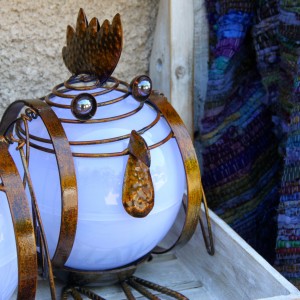 The village is open and large with many squares and cafés and panoramic overlooks to the Ventoux mountain range, and the Plateau de Vaucluse spread out across the south.
Just a few kilometers out of the village to the southwest are the deep canyons of the Gorges de la Nesque.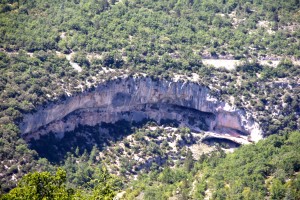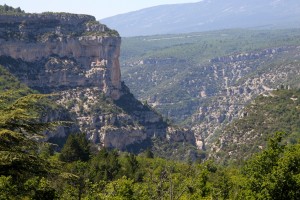 When John had cycled as much as he wanted, I picked him up and we drove part of his route to go back and enjoy the scenery and the lavendar fields up close. They smell delicious!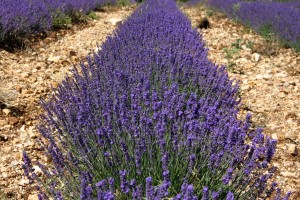 C'est Tout!
If you liked this post, please share it with your friends!