Vaison-La-Romaine is about an hour drive northeast from our home base in L'Isle Sur La Sorgue. With a few days left in Provence, we decided to venture out for a visit to this one of 100 Plus Beaux Villages de France.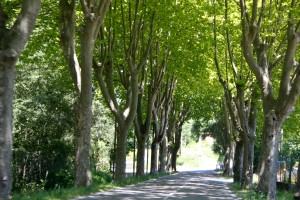 Almost to our destination, we passed Malaucène. It was an inviting and charming town and a cycling mecca at the foot of Mont Ventoux. There were quite a few bike stores and cafés, so I am sure will be back to visit someday.
Tuesday is market day in Vaison-La-Romaine. One of us was surprised with that information, perhaps under the assumption that we were avoiding shopping. We arrived just in time for a patio lunch in the main square, with misters to ward off the heat, music, and une pression bière for Le Grand Patron. Merci beaucoup LGP for navigating us on one more Provençal adventure. The market was huge but the sun was hot, and the vendors were starting to take down their stands. Nonetheless, we found un pain ancienne and two luscious ripe and wonderful heirloom tomatoes to take home for dinner…their fate to be flavored with sea salt, basilic olive oil and basil leaves. Miam miam!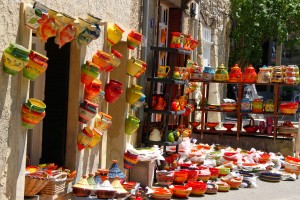 Fortified with salads and cold drinks, we ventured into the sun to hike to the medieval city across the Roman bridge, which is incidentally over 2000 years old. Across the bridge, we were faced with an impressive WWI and WWII military memorial dedicated to the sons of Vaison-La-Romaine.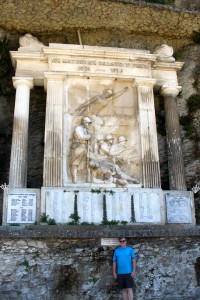 Since we enjoyed an American length déjeuner, it was still a time of rest for the residents of Ville Médiévale. We climbed the quiet streets, interrupted only by the droning of the cicadas and a few camera laden tourists determined to make it to the top and the 12th Century Chateau despite the heat.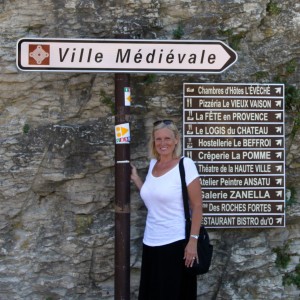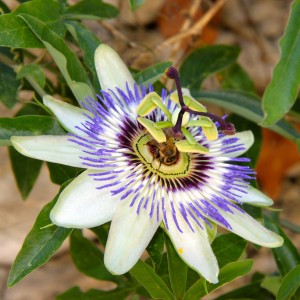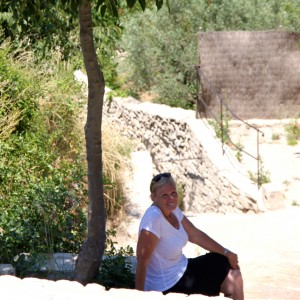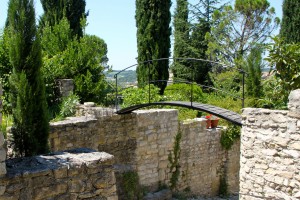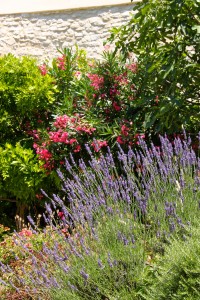 Besides the Ville Médiévale, there is an archeological site of preserved Roman ruins, wine tastings, Provençal cooking classes, cycling, and many shops and restaurants. Vaison-La-Romaine is certainly a destination where we could spend a few days on les vacances.  C'est Tout!
If you liked this post, please share it with your friends!